Tour de Canal
Please offer your generous support for this unique fundraiser for the Alzheimer's Association


The Tour de Canal is a unique fundraising bicycle ride, running from Cumberland, MD to Washington DC, 184 miles in two days, almost all of which is unpaved two-track towpath along the famed C&O Canal. It is said to be the longest off-road charity bike ride in the country. While the official mileage on the first day is 84 miles, if my donors are generous I will generally double back a ways to make it an even hundred, with another hundred the second day. This is a truly epic distance. And just to sweeten the deal, I ride it on a forty-pound antique with only one gear.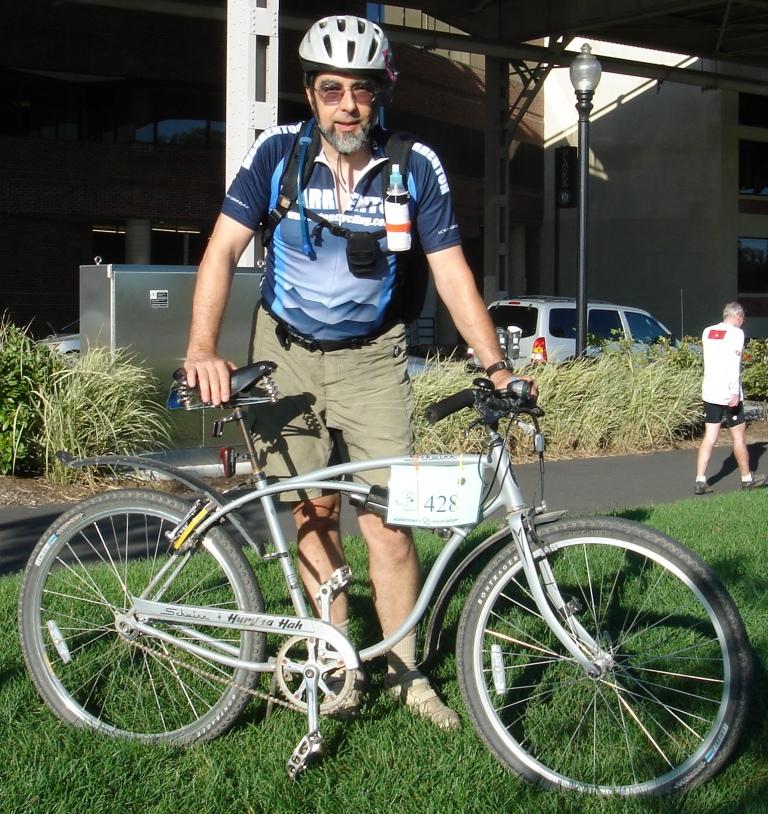 My ride is the venerable Humma Hah, a 1971 Schwinn cruiser which I converted into a mountain bike back in the 1970's before that word existed. While the bike is totally outclassed as a mountain bike today, on the flat course of the TDC it is entirely at home, and usually proves itself a strong performer. We emphasize that the TDC is a fundraiser, not a race, but it is the nature of distance riders to want to ride well. I crank the bike up to the 15 mph park speed limit and attempt to hold that speed as much as safety and good sense allow, but tend to make up time by spending minimal time in the rest stops. Since this is the one event where a cruiser is not at a disadvantage, I try to stay among the first riders. Humma and I have finished the event every year since 2002, except for the 2008 when the event was canceled on the first day due to a hurricane and flooding on the Potomac, 2010 when another hurricane required a one-day 100 mile ride on the W&OD, and 2012 when no event was held.
If you know someone with, or have ever lost someone to, this dreaded disease, I know you will want to help. The TDC has a reputation as a very efficient fundraiser. Most of the rider support is contributed by sponsoring businesses, and very little from your donation will cover the ride itself. Your money goes not just to fighting the disease itself, but to assisting families as they confront the heartbreak of a loved one with the condition.
How the Alzheimer's Association helps.

In order to ride, I need to reach my fundraising goals. This is not a "pledge per mile". I promise to do my utmost to ride the whole distance, and so far have except for that hurricane in 2008. I cannot provide refunds if for some reason I cannot complete the ride. Please consider this an outright donation.